ADM's Valentine's Gift Guide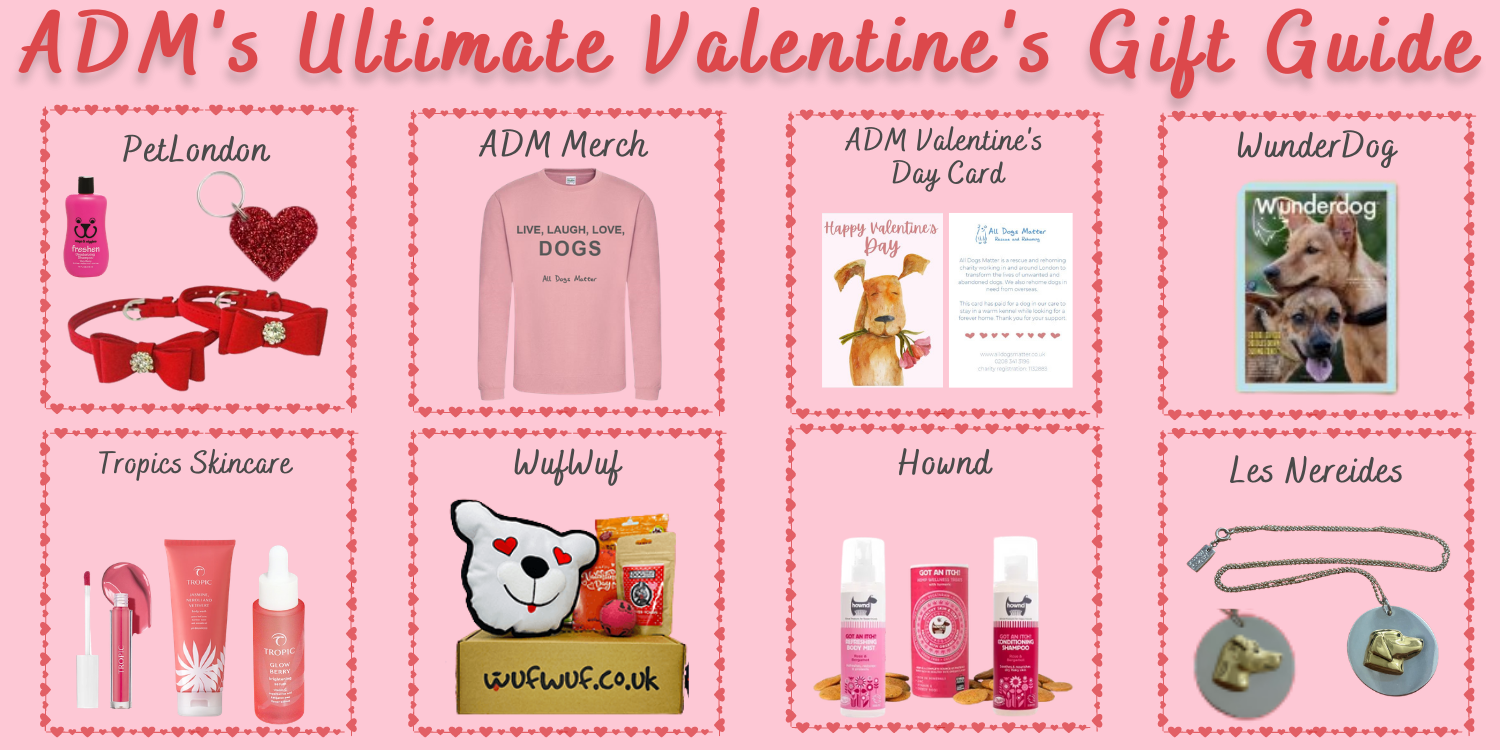 Finding the perfect Valentine's gift for the number one person (or pooch!) in your life can be hard! ADM are on hand to help, and this guide will show you our favourite loved-up gift ideas for Valentine's 2021.
PetLondon
We could not be more excited by the amazing products of PetLondon! Their items are so beautiful they're perfect for the season of love! Spoil your dog to any new accessory, and show them all the love this Valentine's Day!
Click here to visit their shop!
ADM MERCH
ADM MERCH – if life is to live, laugh, and love then we're adding dogs to that too! Check out our brand new merchandise – perfect for any Spring wardrobe. Comes in four colours (grey, mint, pink, and navy), in sizes small to extra-large. Treat your loved one to a little bit of comfort and style, with this amazing new design. Or why not just treat yourself!
ADM VALENTINE'S DAY CARD
ADM CARD – This Valentine's day, get a card with a meaning behind it. By buying our Valentine's day card, you will pay for a dog in our care to stay in a warm kennel while looking for a forever home. We couldn't be more thankful for the support – especially during these weird times – by purchasing this card you will help us continue our rehoming work. We can't think of a more loving and thoughtful card to receive!
WUNDERDOG MAGAZINE
Wunderdog Magazine – Wunderdog tells the untold stories of rescue dogs and their people – how the bond and unity of an owner and their dog is for life. Find plenty of very reads here, with tear-jerking and astounding stories that will inspire you to get involved and hug your own rescue dog(s) even more. This one is definitely a top gift from us!
Click here to visit their shop!
TROPIC SKINCARE
Tropic Skincare – Discover natural, vegan and cruelty-free, multi-award-winning skincare and makeup products, freshly made with sustainable sources. We love these products after the cold and windy Spring walks, as they really add moisture back into your skin!
Click here to visit their shop!
WUFWUF
WufWuf – WufWuf is a monthly subscription box containing high-quality toys, delicious treats, scrumptious chews, and amazing other goodies for your dog – delivered straight to your front door! The subscription is monthly, so it's the perfect gift for your pooch to enjoy regularly! Sign up to get 10% off your first box and Wufwuf will donate £5.00 to All Dogs Matter. We just cannot wait to see what's in the February box!
Click here to visit their shop!
HOWND
Spring is a lovely time of the year for us and our dogs, however with all the long countryside walks it's easy for dogs to get mucky and smelly playing around. It's time to treat your dog to some really great products and treats from Hownd. Help your perfect four-legged friends smell, feel and look good in style.
Click here to visit their shop!
LES NEREIDES
Les Nereides jewellery is beautifully handcrafted in France. The care and skill taken to create each piece of jewellery shows in the finished product, they're elegant and wonderful. This Valentine's Day, treat your loved one to a little sparkle!  With their wonderful range of items, including dog-themed pieces, there's sure to be a perfect gift for anyone! We also have the wonderful ADM x Les Nereides necklace on our shop – made bespoke for All Dogs Matter.
What's even better, is that Les Nereides are deeply committed to the animal cause, and have specifically designed a unique jewelry collection for this. This is the perfect venue for animal lovers to turn their purchases into a good deed since 15% of the proceeds from this collection are donated to associations dedicated to animal protection or to animal shelters by the means of its foundation.
Click here to visit their shop!
---