View All Dogs Available for Adoption
Angel
Gender:
Breed:
Specific Ages:
Rehoming Status:
Rehoming Options:
Can live with children over 10
Cannot live with cats
Could possibly live with a calm male dog
* Reserved *
Angel has been adopted!
Angel is an American Bulldog who has come to us after she was abandoned. She is 15 months old.
Angel has been friendly with everyone she has met. She has also been good with the dogs she has met out and about too.  She loves a treat and will take it nicely from you and she can 'sit' and 'give paw'! She is currently in a foster home, where she is doing really well.
Angel is partially deaf, but can still hear a bit. When she was in kennels, the kennel staff have to go in and wake her up with a gentle stroke… and then that tail starts wagging!  She will need a patient new owner who has the time to spend with her, she will make a sweet and wonderful companion for the right new home!
Angel is good with dogs when out, so could possibly live with a calm male. She can live with children of 10 years and above, but not with cats.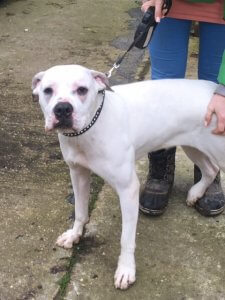 Reserved