View All Dogs Available for Adoption
Axel
Gender:
Breed:
Specific Ages:
Rehoming Status:
Rehoming Options:
Axel has headed off to his new forever home! You can read the story of how he came to ADM below but here you can see him with his foster carer in the office before he headed off to pastures new 🙂 Good luck Axel!
HELLO! I'm Axel, a 10 month old male Parsons Terrier and this is my story…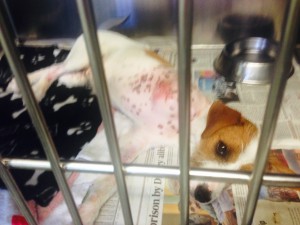 As you can see from my photo, I have had to have one of my front legs amputated. I was having a lovely time chasing a cat, when a car came out of nowhere and hit me. It was a big shock for me and I was in a lot of pain, but my owners didn't take me to the vet straight away to see what my injuries were.
When my owners did finally take me to the vet, the vet told them I would need an X-ray. Unfortunately, they didn't or couldn't afford the treatment so they never came back to collect me.
Luckily, the vets were very kind to me and gave me the best possible treatment. I had the x-ray and it showed that my leg had been badly broken in several places. Because it had been neglected, it had turned gangrenous and the only thing to do was to amputate it.
The vets called various rescues to see if anyone would like to offer me a space and fortunately ADM did. A few weeks on and I am in a lovely foster home, where I am learning to get used to my new life.
Losing my front leg has left me feeling shocked and a bit depressed. It's hard to get used to, especially for a lively young terrier like myself. I can't chase cats at the moment (although I supposed that might be a good thing!) and I can't run around the way I used to. My foster mum is helping me to get used to walking on three legs, which I am getting better at all the time.
I'm still very young and I believe that with the right owner and my foster mum's help and training, I should get out of this habit quite soon. I will however, be looking for an experienced owner, with no children under 14 years old, no cats (obviously!) and a property with direct access to a garden.
If you feel like you could be the owner I need, please call one of the team at ALL DOGS MATTER and I'm sure they'll be able to help you. If you're not the right owner for me, then maybe you might be the right one for one of my other doggy friends that are currently looking for a home? Finally, please remember, that before you commit to getting dog, we do cost a lot of money to look after if we get ill. Most importantly, we are for life.
Thanks for reading my story and I hope to see you soon,
Lots of licks, Axel