The Great Hampstead Bark Off 03 May 2014
Paws at the ready for our first Bark Off and Dog Show on Hampstead Heath!
Are you ready to take on the challenge and enter your own dog-themed cake, cupcake, biscuit or tasty doggy treat? We are trying to sniff out the best barkers in town to come and present their creations to our celebrity judges at the Bark Off.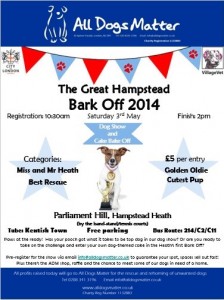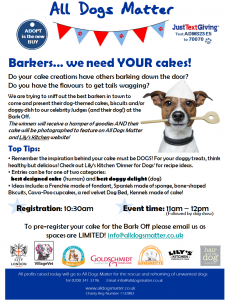 Top Tips!
Remember the inspiration behind your cake must be DOGS!
Entries can be for one of two categories:  best designed cake (human) and best doggy delight (dog)
Think BIG! A Frenchie made of fondant, Staffies and Spaniels made of sponge, Bone-shaped biscuits, a red velvet Dog Bed, Kennels made of cake!
Please register your cakes/doggy treat for the Bark Off.   Just email us info@alldogsmatter.co.uk
Or has your pooch got what it takes to be top dog in our dog show?  Be crowned Miss or Mr Heath, Best Rescue, Golden Oldie or Cutest Pup! Pre-register for the show via email info@alldogsmatter.co.uk to guarantee your spot, spaces sell out fast!
Plus there's the ADM shop, raffle and the chance to meet some of our dogs in need of a home.
The nearest road is Highgate Road (NW5 1PB), and the band stand is just past the cafe. The nearest car park is Gospel Oak.
Here's the link to the Google Maps page http://bit.ly/QuNyaN