Frankie – update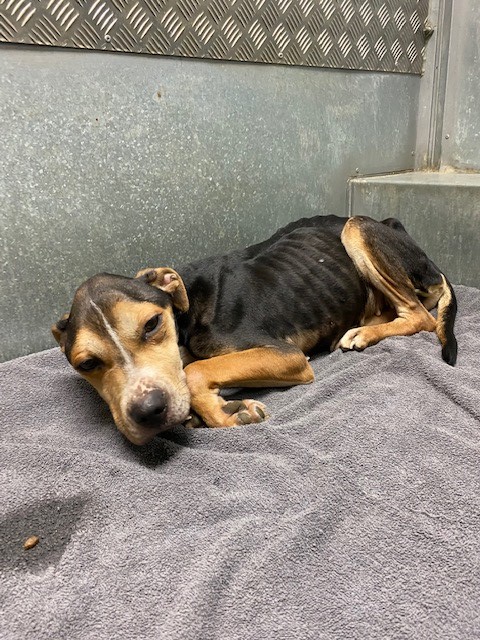 Meet Frankie, a loving Staffie Cross who was found neglected and abandoned.
Sadly, we're seeing more dogs like Frankie coming into our care that haven't had the best starts in life. If you need to rehome your dog, please do so responsibly via a rescue centre, who have the skills and experience to match the dog with loving forever owners. Do not sell them online.
Poor Frankie was found emaciated, scared and alone after being dumped after having given birth to pups. She was fortunately picked up by the local dog warden and saved from another cold night on the streets. If she hadn't have been rescued that day, we're not sure she would have made it much longer. Frankie is now in our care and was treated by the amazing Wanstead Goddards vets before being placed in a loving foster home where she is now receiving lots of TLC. When she's fully recovered, this sweet girl will be looking for her forever home. Frankie is anemic and has been diagnosed with IMHA so when she is well enough we will be looking for a new home for Frankie in the M25 area as she will need to come back to our local North London vets for treatment. She will also need to be the only dog in the home.
We need your help to save more dogs like Frankie. 
During this time when charities are seeing a lack of funding due to Covid-19, we are seeing a rise in the number of desperate dogs in need of our care. We cannot do our rescue and rehoming work with the support of you, our incredible supporters. Please consider making a donation, and help us save more dogs like Frankie.
---