At the moment we are looking for:
We currently have an opening for an animal welfare assistant working from our busy kennels in Waltham Abbey (EN9). The candidate must hold a full UK driving license and must have experience in the animal welfare sector and be happy to deal directly with the public. If you would like to apply, please email your CV to the email address at the top of the page.
Dog Foster Carers in the M25 area (see below)
If you'd like to foster dogs please complete our Fostering Questionnaire and you can find out more about dog fostering below.
If you'd like to volunteer for us, please complete our Volunteering Questionnaire and we will get back to you.
Please note that the kennels are based in EN9, not the N2 area so you would need to be able to drive to get there as the public transport links are quite poor.
Please note, our dog kennels are in Waltham Abbey.
Our North London address (near East Finchley) is just the Head Office. Visits to our office is by appointment only, and we don't keep dogs there.
If you'd like to volunteer please email your CV and cover letter to info@alldogsmatter.co.uk
But we are very grateful for any donations we get for the dogs (money is welcome but also food, toys, collars, leads and blankets etc.)
Foster Carers
Can you help us with the growing demand of temporary homes needed for our dogs? You can be a foster even if you have children, dogs or cats! Children must be 8 years old and above. You need to have experience of dogs and to be at home for most of the day. It would be helpful if you had your own transport but it is not a must. We will provide food and bedding if needed. We assess dogs prior to placing them in foster, but please remember that they may change once in a new home environment. However we will always take the dog back if there is a problem. Please be aware that a dog may be in your care from a few days up to a few weeks. If you'd like to foster dogs please complete our Fostering Questionnaire.
Home Checkers
We also need help with home visits. This is to check if homes are suitable for our dogs. You must be friendly, professional and able to communicate the next steps to the potential owners. (You must always remember that the rehoming decision is up to us.)
Drivers
Are you free to drive and have you got a little time to give us? We are looking for voluntary drivers who hold full licences and are willing to transport dogs around the London and M25 area.
Paid vacancies
We currently have no paid vacancies but it doesn't mean that you cannot be part of the team. If you have spare time and are looking at working with dogs, why don't you consider volunteering with us?
We're always grateful for donations and that doesn't just mean sending money.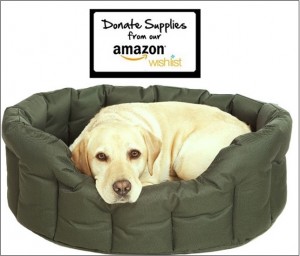 Please take a look at our Amazon Wish List. It has been put together by our dogs. You can help by sending us food, dog toys or blankets. We always need food, dog collars and leads, medication and dog beds.
Or find out more about the different ways you can donate, such as cartridge recycling and raising funds when you shop online.