Do you love dogs and want to help raise money for All Dogs Matter? Then we would love your support as a Mini Paws fundraiser! We've shared 10 fun ways – listed below – that you can get involved in fundraising for us, whether that's on your own or with friends or family. From hosting a dog themed cinema night, to getting creative through an art challenge to showing off your cooking skills in in a baking challenge, there is something for everyone.
Raise £100 or more for us as a Mini Paws fundraiser and you will receive a special t-shirt, ADM teddy bear and certificate from us to say thank you. You'll also be featured in our Mini Paws fundraiser hall of fame on our website!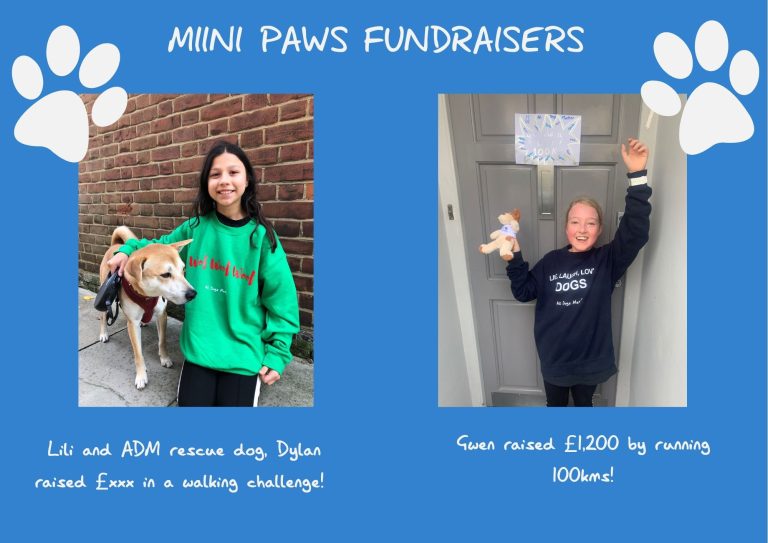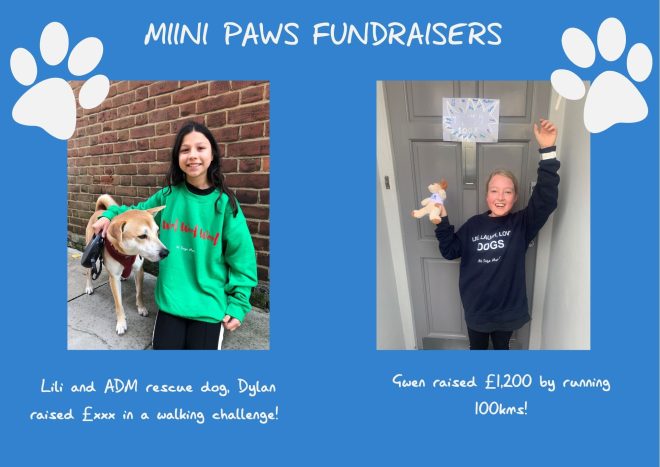 For any advice or support on setting up your Mini Paws fundraising challenge please get in touch – 0208 341 3196 / info@alldogsmatter.co.uk and good luck!
Doggy themed quiz
Host a dog themed quiz and ask friends and family to pay an entry fee.
Art challenge
Ask friends and family to draw, paint, doodle, etc the dog they would like to adopt. Charge a fee to enter the competition. Winner gets a doggy themed prize.
Set up a birthday fundraiser
Ask people for donations instead of a gift. You can set this up on Facebook, or if you don't have an account then ask your family and friends to donate to a bank account or through a cash collection box.
Host a dog themed film night
Why not host your very own cinema night with a dog themed film, for example,  Lady and the Tramp or 101 Dalmatians and ask friends and family to donate an entry fee. Maybe even throw in snacks too!
Organise a uniform-free day
Ask your school to hold a non-uniform day to raise money for ADM. Ask pupils to bring in £1 to take part.
Set up a 'Bark' sale
Ask friends to join you in helping to dog themed cakes, set up a stand and sell slices for £1 each.
Give something up
How long could you go without chocolate or crisps? Ask family and friends to sponsor you to give something up for a day, a week, or a month!
Doggy themed treasure hunt
Put together a treasure hunt with dog themed clues, split into pairs or a team. Set a suggested donation amount for entering.
Get your paws to the floor
Do a sponsored walk, run, swim, or any type of physical activity to raise money for All Dogs Matter. Set a distance target over a day, week or month and ask friends and family to support you to reach your goal.
Sponge throw!
Ask pupils to donate in return for getting to launch soapy sponges at teachers. Best done on a sunny day!