Welcoming our Six Chinese Rescue Dogs
Jewel
Lovely little Jewel is a 10-12 month old female Labrador, who's full of love, snuggles and that mischievous Lab character! She was rescued off the back of the meat truck when she was about 5 months, and therefore we think fortunately hasn't experienced significant trauma from this ordeal. Jewel is great with other dogs and people so it didn't take her long to find a home. She's found herself landing on her feet in the UK and has already been adopted by an experienced Labrador family out in the country, where she will learn all about being spoilt rotten – a huge difference from her tragic start in life.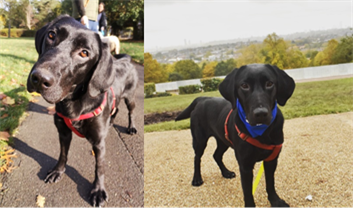 ---
Henrietta
Once off the van from her 30 hours of travelling, Henrietta was timid and only wanted to be held in our arms, she was scared, cold and understandably confused. However, once she settled into her foster home, she became an entirely new dog. Henrietta is playful, fun loving and very affectionate. Staying with a regular foster carer, she couldn't believe how quickly they bonded! Yesterday, Henrietta met her forever family – she has gone to a wonderful family with a rescue Schnauzer, to help her settle into the home and find her feet in the UK.

---
Hope
Sweet little Hope was named due to where she was rescued from. Hope was saved directly from the floor of the slaughterhouse and was just moments away from being killed. Thankfully, she is now with us in the UK and has already been adopted! She's already learning the ways of the sweet life, and truly in love with her owner.
---
Archie
If you've been following Slaughterhouse Survivors for a while, you may have originally seen Archie on their page, as he's considered their mascot at the safehouse. When Archie arrived with the rescue in China, he sadly wasn't in the best state – as an older boy, Archie needed some treatment and TLC in China before being able to travel. Now in the UK, Archie is in a wonderful and supportive foster home, who is helping him come out of his shell day by day. He's still looking for a forever home, however is currently loving stretching his legs on morning walks and cuddling up to his foster pawrents!
---
Harper
Affectionately known as 'Batgirl' in China, this little lady came over to the UK and was ready to play as soon as she arrived! With her charming personality, newly named Harper won the heart of her foster carers and their dog, Binks. Harper is bright, friendly and has settled into UK life very well! She is still waiting for her forever home but is currently doing great and enjoying constant play with her foster brother – Binks.
---
Penelope
Sweet little Penelope was another very nervous pup. Once off the van, she went straight into our founder's arms, and didn't leave until arriving at her foster home. Currently, Penelope is still settling in as she's very timid in her new environment, however she's enjoying all the snacks and cuddles she can get! Once more relaxed in a home, we will continue looking for a calm and dog free home for her to enjoy for her life.
---